One of the things I am beginning to love is reading other people's blogs- their opinions, their likes, their dislikes, etc. This morning I stumbled upon
this blog
and was reminded how fun summertime can be. So as I listen currently to Pandora and in the background "
raindrops on roses and whiskers on kittens
" is blaring, here are a few of my summer favorite things.
1. Being outside
Seriously, if the sun is out- I have to be outside. Something about being cooped up inside when there's fun awaiting. Whether it's hiking or laying in the sun with my counselor bestie getting free advice (ok Jules, feel free to put me on retainer), I would be outside from daylight to dark. Perhaps that some of the nostalgia coming back to me of growing up out in country where as a child I would play hard all day and sit on our family's or neighbor's porches just visiting. And catching lighting bugs too- a definite summer must.
2.
Coconut Lime Lotion
Seriously, doesn't this just take your mind and senses right to the beach?
Yes, it definitely takes me to my happy place!
3. Wednesday night bible study group
These women are some of the most generous, kind and loving women I've ever known. This picture was taken the night after one of our sweet sisters Bobi (1st row, 3rd from right) was baptized. It was a beautiful night celebrating Christ renewing our sweet sister's mind, heart and spirit. And, it's weird. You know how that sometimes you meet people and you feel as though you've known them forever? That's how I feel about these women. I've lived in this state for only 2 1/2 months. They are connected to my soul. Only a God thing I tell ya!
4. Daily Reading
This summer, our church is reading Psalms together. What a blessing to be in God's word and get revelation from it, then talk to someone else, and discover God said something so different yet in an affirming way. That's our God. Need some kind of plan to get yourself into the Word this summer? Join us
here!
5. Greek Yogurt with homemade vanilla and sliced almonds
Yes, I think it's true. I've eaten this every night for the past month as a bedtime snack. It's yummy!
6.
These pens!
Anyone who knows me well knows that I have a love affair with good pens. This s the one I'm currently on. And by the way, if I've been in your office and you can't find your pen, chances are I have it. It's not like I am intentional about stealing them but I have a box of pens in my garage that somehow ended up in my bags over the years...and I'm positive I didn't buy them.
7. Time with the littles
As many of you know, moving home was a huge bonus for me to finally be around my niece's precious babies who need one more person in their family to spoil them rotten. Since it's nearly been 18 years that Dalton was little, it's fun to see these babies bring so much joy to those in our family. I try to get them weekly and dote as much as I am able. And yes, I want to be that aunt they'll run to when they get mad at their mama! Bella knows that I am the keeper of all things candy for her and little Colten will soon find out that as well. Love these babies so.
8. Coconut Almonds
My Arkansas sister Tracey just introduced me to these jewels last night via twitter, and yes at nearly 11pm I had them. Oh. my. soul. If you love coconut- delish. Since I forgot my lunch today, it looks like this may be my mid-day entree.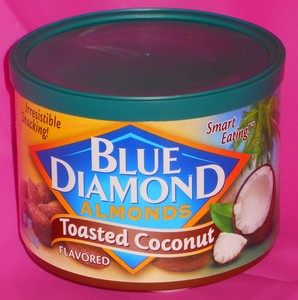 So that's just a few of my favorite things. What are yours?